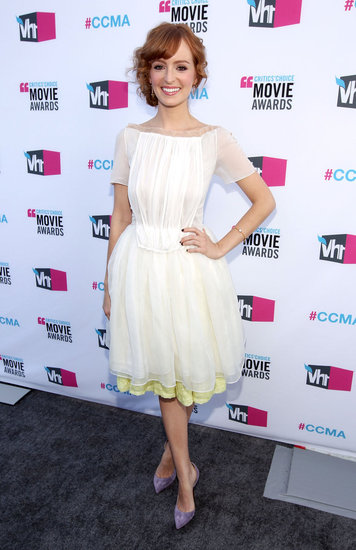 As I
said
, Awards Season is upon us. Last night was the Critics' Choice Awards and pastel dominated the red carpet. I loved the blushes, pistachios and butter yellows, but my absolute favorite dress of the night was Ahna O'Reilly's by Honor.
I
mentioned
Honor's pre-fall 2012 collection here, but the Spring 2012 collection may be even more amazing, and Ahna's dress is one of the standouts. The shape of the dress, the sheer sleeves and the delicate mix of cream and yellow is dreamy. The combination of the lavender shoes and reddish hair paints such a sweet, lovely picture.
Unfortunately it is
way
too cold to don such a light, fanciful dress here on the east coast, but come spring, you can bet I'll be emulating this breezy look.